How to repair a broken RiscPC slice flap
The dreaded floppy flap that stays down. Even the best loved RiscPCs can suffer from this ailment. It means that the spring that holds the flap up has broken, or more likely one of the little plastic lugs for the spring has broken.
I couldn't bear my 4-slice RiscPC having it's bottom slice with a non-closing flap, so I have devised a kit to fix this. The kit comprises a small metal hook and a replacement spring for a household door lock.

Top: the new spring
Bottom: the original RiscPC spring
The only tools required are a 1.5mm drill-bit (and a drill) and possibly a pair of pliers (although I managed without).
You need access to the slice which has the broken flap; usually this is the bottom slice, so de-slice your RiscPC and look in the front right-hand corner just in front of the PSU.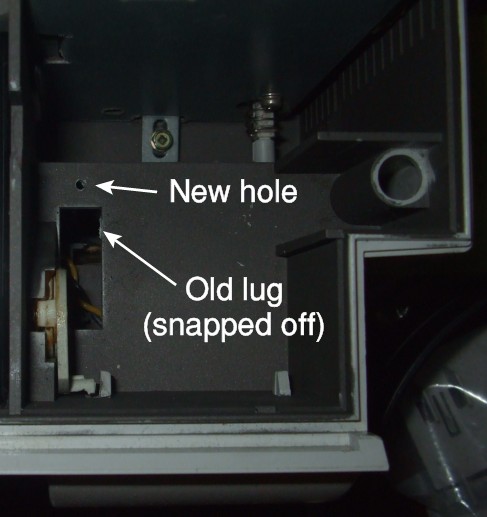 Where to drill the new hole
Close to where the original lug was mounted drill a hole for the new hook. Make sure the hole is in line with the hook on the case flap.

New hook installed - in line with the hook on the flap
Screwing in the hook was a bit fiddly and this is where a pair of pliers might help.
With the new hook in place fit the new spring. A small amount of adjustment to the spring tension can be effected by rotating the new hook by up to 90degrees.

Voila. A 4-slice RiscPC looks like it should.
While I was down to one slice I took the opportunity to check the CMOS battery which is now 11 years old. I had to remove the bottom podule to do this and I was greeted by this mess:

Leaking CMOS battery in RiscPC
Unhealthy and corrosive, this could be the kiss of death for your RiscPC if you don't replace that battery right away. Luckily it isn't hard to do, so stay tuned...